Stories
[
]
I didn't realize that the story gets cut off in that manner when the speaker changes. I have not really been too involved yet in retrieving information for stories from the files/game, but it's something I plan to work on eventually. I just happened to notice some of the special pages that had things needed to be done, like categorizing pages. One of them lead me to The Promise and related items, but none of them were ever created on the wiki lol. So I made an attempt to add them in. I'll simply mark any stories I add as incomplete and make a note that there may or may not be missing dialogue until I'm able to figure out and streamline the collection of the dialogue.
Thanks for the note about it. --Masqtalk 15:33, 16 February 2012 (UTC)
Equipment Page
[
]
Wow, your work with the Equipment Template is amazing and will surely be appreciated by everyone who wants to see how equipments look for all characters in a convenient manner in the way that you've created. It will be awesome to see this template go live, great job. :) --Ɛαmes - ταłκ 16:06, 10 June 2012 (UTC)
For equipment that is restricted to one class, should we still apply the |screenshottab for consistency or is that redundant since nothing changes when using the tab code for single class equipment? --Ɛαmes -

ταłκ

01:32, 16 June 2012 (UTC)
Item Parameters
[
]
The parameter for items to tell what type of item it is appears to have been broken in game recently. All items used to display what type they were (material ore, loot, erg crystal, ect.) It appears now that no items besides equipment display the type in game, although they should. The database website, which takes the information straight from the game files displays the type correctly, so it must be something wrong with the game engine loading them to not display the type in game anymore. I don't think we should go over every item and remove the type because the game is currently not displaying them, which is obviously an error. Knowing Nexon though, it'll take quite some time before they get around to fixing it. --Masqtalk 12:38, 18 June 2012 (UTC)
Battle Map
[
]
Do you know how to get a dungeon map? --Jleetalk 17:18, 18 June 2012 (UTC)
New Enemy Template Design
[
]
Basdeth, you're awesome with this wiki and all, but the new enemy template... I don't feel so easy using that, it seems to be bit jumbled up for me. So why don't we just stick with the old version and ask other people (especially the adims) about your idea of the new template before use. --Jleetalk 02:22, 20 June 2012 (UTC)
I think am fine with the new template, it matches with the theme of our wiki. The old template seemed unnecessarily wide and the text felt cluttered, especially when people wrote A LOT for Battle Advice and/or Notes (and now I don't need to look at all the random text unless I scroll down). However I think the information about Location and Titles should be placed else where, perhaps directly below the image, that's the only cause in which I'd think it looks currently 'jumbled' or odd. Another problem I've encountered are pages which list multiple monsters on one page (Spiders) where the Contents list is really large and only appears for the first monster. --Ɛαmes -

ταłκ

04:36, 20 June 2012 (UTC)
Re: Seal Icon
[
]
THANK YOU! That thing was giving me a headache! --Jleetalk 12:50, 20 June 2012 (UTC)
Help
[
]
Do you now how to fix the Barbarous Plate Chestpiece icon on Plate armor tunics ?
Home.png
[
]
Since Kai is coming out tomorrow we decide to use your idea for Home.png. So it would be nice fort you to upload it before tomorrow, but if you're busy I can just crop the picture out from your File:Main page.jpg and do it for you. --Jleetalk 18:10, 17 July 2012 (UTC)
Re: Reverting my edit to Polar Bear drops
[
]
Oh sorry about that. I must've accidentally did that when I was just trying to put "sub" next the "boss", but I have no idea how that happen, so once again I'm sorry. --Jleetalk 22:56, 2 September 2012 (UTC)
Player Ally
[
]
Should we make a category of Category:Ally or Category:Player Ally for anything that appears friendly to the player in battles (Gnoll kids, Goddess Statue, Ceara/Marrec/Gallagher and Gift Box to name a few). Also, for Ceara/Marrec/Gallagher, how should we go about making enemy template pages for them, as in what would the page name be since their name pages are already taken. Ceara (Mob) maybe? I'll let you decide what the category and stuff should be for them and will skip them for the stats until then. --Masqtalk 17:57, 013 September 2012 (UTC)
Succubus Cap
[
]
Nexon introduced another Succubus Cap that drops from Hero Succubus, but has different stats and a different appearance. What do I have to do to make the existing pictures for Evie on the NX one link to the NX page without linking to the item drop one? Both items in game are called Succubus Cap, but are different items. Both Succubus Cap pages want to link to the same picture file, but can't because the pictures will be two different things. --Masqtalk 23:19, 26 September 2012 (UTC)
Succubus Cap
Succubus Cap (NX)
File:Succubus Cap (NX) (Evie 2).png
File:Succubus Cap (NX) (Evie 1).png

Template:Equipment (enhance/enchant/time limit/dye)
[
]
I was wondering if you'd be able to add in parameters for enhance, enchant, time limit and dye to appear on the equipment template. There are some special items that show the lines that they have a time limit or can't be enhanced/enchanted/dyed, and I'd like to have that option in for them so it matches the in game look. As far as I know only the trade parameter is currently able to match with yes/no/cash. This example picture has a time limit and can not be enchanted on it. The dye/enhance would have the same appearance as enchant, with the orange text and the icon beside it. --Masqtalk 16:22, 11 October 2012 (UTC)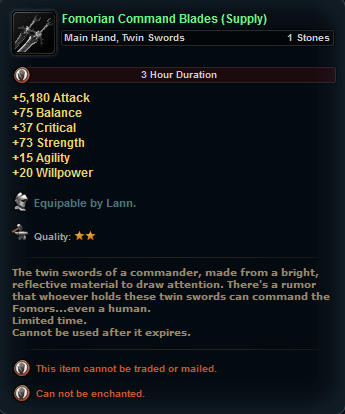 Oh, thanks. I think the only issue with automatic + would be with the Chiulin Twin Spears, which have a -9 attack speed (negative). That's the only one I can think of that has a negative stat on the piece so with the automatic +, it would appear as +-9. The automatic commas will save some time. Thanks for the help Basdeth! --

Masq

talk

00:13, 12 October 2012 (UTC)