Deliver the message from Jarlath to Riordan at the Royal Army Base.

Marrec
Did you see him?
The ogre at the Bar?

Gallagher
What?! I've heard the rumors,
but I didn't think they'd be true!

What is an ogre doing here?
How did he get inside town?

Does nobody care about this?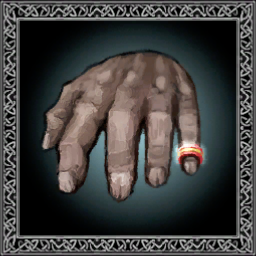 Marrec
That ogre had a ring on his hand.

Gallagher
I saw it too. It looked pretty expensive...
But was it a ring?

It wasn't a bracelet?

Marrec
Was it a bracelet?
Well, if it fits that huge finger of his...
Riordan
What is all this chatter?!
Slackers, the lot of you!

If you have time to run your mouths,
train harder or go back to Colhen!
Riordan
What of the information I asked for?

(You relay Jarlath's ominous warnings.)

So...even the Great Magician said that?
Just as the mere countryside magician did...
Riordan
Well then, this is a serious matter.
Riordan
Find the remaining pieces.
That goes for you mercenaries, too.

Marrec
Wait, us too? Why is that?
Riordan
Who do you think you are to talk back like that?!
Riordan
You mercenaries put us in this mess.
It is only fitting that you clean it up.
Riordan
Then get moving. Find those pieces.
So troublesome...
Go to Battle Quest The Investigation with the Mercenary Soldiers and obtain the Mirror Fragment (South), and then return to Riordan.

Gwynn
Keaghan, Sir!
When did you get here?

Keaghan
Not too long ago.
What's the situation?
Riordan
We found something suspicious which belongs to the Fomors.

Keaghan
I'll take a look.
Give it here.

Keaghan
Hmm...this is Shakarr's mark on this mirror fragment.
Wait, no... It's slightly different.

Is this Black Hammer's?
Riordan
Black Hammer was spotted in the area this piece was found.

Keaghan
But then why was a goblin carrying this?
Riordan
We're not sure yet.
But if this item is related to the ogre...

This case may be relevant to the incident from before.

Keaghan
Are you talking about the incident that occured while I was away?
(Gwynn examines Brakis's face.
He is simply listening to the conversation.)
Riordan
Yes, that's correct. I've heard that this mirror
fragment is a type of emblem for something.

If this belongs to Shakarr, and if it is an emblem
for a contract with the ogres...

Keaghan
No, it couldn't be.
The ogres wouldn't make such a contract.

I'm thinking that it might be
related to another...

Investigate further. If we cannot find the final
piece, we might have to face them.

I'm required at the Pontiff's Court
for some business about an oracle gathering.

I can count on you, right?
(Keaghan leaves the Royal Army Base.)
[The screen fades to black.]
Black Hammer
We've lost even the third piece of the contract?
Black Hammer
I thought it was safe there...
Far away from the humans...

How did they find it?
?
I don't think that's true.
Black Hammer
Is there only one more piece remaining?
Keep watch of the situation.

We can't let Shakarr know of our plans. Understood?
Reward:

You have received 93400 EXP.