Continue talking at the Mercenary Outpost. [Talk to Ingkells.]
(Ingkells picks up the abandoned Unknown Plant.)
Ingkells
Is this all the information we have?
Ingkells
It is not enough. If we were to make a
rash decision now, it could mean disaster.

Let's be more cautious in our actions, Aodhan.
Ingkells
It won't be easy, but we need your mercenaries to investigate
further.
Ingkells
This place is the far end of Hilder Forest.
We knew nothing of the ruins there.

In truth, we know almost nothing about this area.
You may very well be risking your life by going.

But taht is how important this mission is!
We need proof...another plant.

If my assumption is correct, you'll find
the ones who are growing the plants there.

We need one of their plants to confirm it.
If that's not possible...destroy everything.
Obtain Bleeding Plant in Battle Quest Forest Ruins and report to Ingkells.
Ingkells
What did you find there?

Was it found?
Ingkells
It is all true. Aodhan, do you remember?
Ingkells
Are you sure they are the same?

Gwynn
What is this?
What can you tell me about it?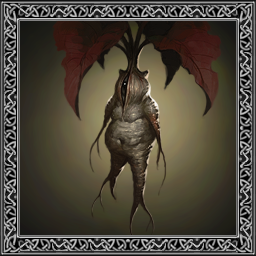 Ingkells
This is a plant called Bloody Shade.
There is nothing officially known about it.

We do not even know how it is obtained.
Ingkells
If this has come from Hilder Forest, it means that
the trolls have found a way to grow these plants.
Ingkells
Night Shade plants are both rare and difficult to preserve.
But this plant was found fresh in Hilder Forest.

The real problem is that Night Shade plants can be
specially grown to become Bloody Shade

And the trolls known not only how to grow them,
but also how to use them.

This means that...
We might not be able to win this one...

Aodhan
That's not true.
We can be victorious in any battle.

The ones who choose to forfeit are
the ones who are not worthy of victory.

Aodhan
That's not true. I'm getting old.
Ingkells
Ha! Are you really talking about getting old
in front of ME?
Ingkells
No, no. That's alright.
Let's call it a day for now.

Thank you all...I know today has been
trying for everyone.

You should all get some rest.
I'll see you tomorrow.
Listen to the conversation between Aodhan and Ingkells.

[Talk to Ingkells.]
Ingkells
Why are you still here?

Aren't you tired?

Aodhan
I will leave when you do.
Ingkells
You don't have to be so formal.
It's not like I'm still your superior.

Aodhan
That's not true. You're the only person I'll
ever take orders from, Ingkells.
Ingkells
Aodhan.
I must ask you something.
Ingkells
If you were able to return on that day,
you might have not lost your family.

Aodhan
I think...it would've happened anyway.
I could have only delayed the inevitable.
Ingkells
Do you blame me for what happened?
Ingkells
Is that so...
It's good to hear that.

You don't hate me...
Haha.

But perhaps I should hate myself.