Find the Royal Army Emblem in Battle Quest Being from the Other World and talk to Nyle.

Nyle
I sincerely hope you found something.

Nyle
Hm, a Royal Army Emblem.
I expected this. But what does it mean?

Is the Royal Army directly involved? Or is it a force even
more powerful?

Brynn
It seems to me that this has nothing to do with Wenshardt.

Nyle
Whether this is related to Wenshardt is not important
right now. We've a more pressing matter to attend to.

Whatever destroyed Ainle wasn't from this world. But
who brought those beings over? And why?

And what relationship does this have with the Royal Army.

Nyle
Why don't you ask your master, Brynn?

Brynn
That old man wouldn't know. Even if he did, it wouldn't be valid
evidence.

Brynn
The Royal Army may have simply battled the Fomors who
invaded Ainle. That's what the Royal Army claims.

Nyle
You're kidding me, Brynn, right?

Brynn
I simply mean it cannot be taken as valid evidence.

Nyle
You're probably right.

(He sighs.)
In the end, we've found nothing.

Brynn
But we know that Tieve--that is, the oracle--is safe.

Nyle
True.

All right, <Lann>. You have earned my trust. We are
called the Silent Brotherhood.

(He laughs.)
You might've heard of us. We're quite notorious.

There's a bounty for my head so large, it's buy you a castle.
But our purpose is no laughing matter.

We protect the goddess. Goddess Morrighan is--

Nyle
What is it? Did you go to Ainle?

Gallagher
The dimensions... The dimensions are distorted again!

Nyle
That means... The dimensional door is opening? Without
the effects of summoning magic or a mana explosion?

Gallagher
I don't know It's as Brynn said. [sic]
The sky...the sky is...

(Gallagher suddenly notices you.)
Whoa! <Lann>! What are you doing in here?

Nyle
Don't worry about <Lann>. Tell me what you know!

Brynn
I should go see it for myself.

Nyle
You cannot do that, Brynn. The oracle is in Colhen, not
Ainle, so in Colhen you must stay.

Let's leave Ainle in the hands of someone we can trust.

Nyle
Yes.

(He turns to you.)
I'd like to make a request.

Something was summoned in Ainle again. This time,
whatever was summoned came by the power of its own

will. Find out what it is.
Complete the Battle Quest Blood Prince and talk to Nyle.

Nyle
(He shakes his head.)
The Prince of Emptiness?

We need to investigate more, but it's too dangerous.
You've done much for us. But leave this the rest to us.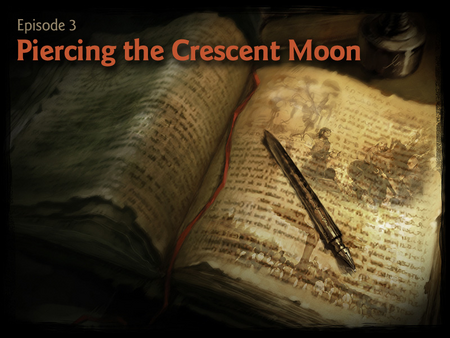 Episode 3: Piercing the Crescent Moon has been completed.