Take a minute to listen to what Caryl has to say.

Caryl
Such beautiful weather, isn't it?

Caryl
(Caryl glances over at Krunk.)
Oh my, Krunk, did you fall asleep?

Caryl
Well...he's been through a lot of heartache lately,
so getting some sleep might be a good idea.

Haha. I wonder if he's having sweet dreams.
[The screen fades to black.]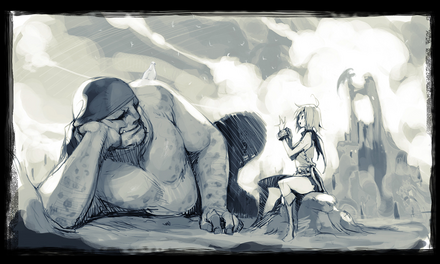 Ogre
Hoo-man, trouble come here?
Hoo-man no afraid ogre?
Elaine
I don't know. I didn't come here to see an ogre. I came to see you!
Ogre
Grr... Strange hoo-man.

That on arm.


What that?
Elaine
This?
Haha. Isn't it pretty?

This is a keepsake from my mother.
Would you like to try it on?

Well, I guess it'll only fit on your finger...
Ogre
Hoo-man so strange.

That no help.

Mother gone.


Why keep?
Elaine
It's not that. This is a symbol of our promise
not to forget each other.

Being physically close to someone
is not important.

She will always be in my heart.
Ogre
Hoo-man...strange.Hmmm...
Elaine
Really?
Haha. Maybe...

Anyway, what is your name?
Elaine
Krunk?
Ah haha, what?

That's a funny name...
Extra Episode : The Titan has been completed.
Reward:

You have received 65400 EXP.