Effects and Process of Dismantling
[
]
Dismantling is considered a sub-skill of Expertise. As of May 2015, you can dismantle items regardless of your expertise. For example, a character with Tailoring can now dismantle weapons as well.

There are three tiers to Dismantling, based on proficiency and the item's level to be dismantled. Proficiency of 0-49 is able to dismantle items of level 1-47. Proficiency of 50-99 is able to dismantle items of level 48-55. Proficiency of 100-150 is able to dismantle items of level 56-60.
Materials obtained from dismantling an item will now be dependent on the dismantled item's attributes and not the player's dismantling expertise.

Dismantling level 1-47 equipment costs 3k gold and destroys the item to produce:

Dismantling level 48-55 equipment costs 5k gold and destroys the item.

Note : The chance to get an average material is only approximately 50% or so, the rest of the time you will get an Element Stone Catalyst instead.
Dismantling level 56-60 equipment costs 10k gold and destroys the item.

Dismantling level 70-80 equipment costs 12k gold and destroys the item.

An example of the dismantling process can be seen in this picture, by a Weaponsmith dismantling a level 1-47 item: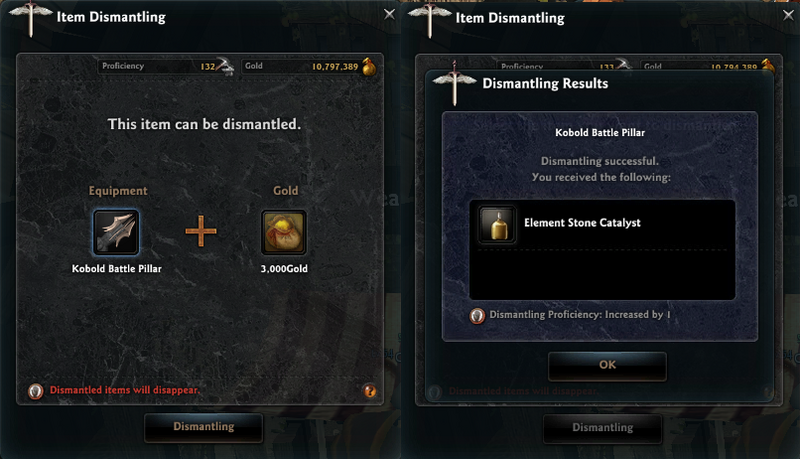 Dismantling is the first step in the process required to Power Infusion Process equipment. Element Stone is the second process, relying on materials from Dismantling. Finally, Power Infusion Process uses materials from Element Stone to have a chance of boosting a single stat on a piece of equipment.

Items with an NPC sale price of 0 gold cannot be dismantled.