December 15th, 2010 ~ January 18th, 2011
Website News Post
[
]
Dear Mercenaries-
The decorations are up, families are getting together and the malls are packed! It can only mean one thing: The holiday season is upon us!
Celebrate the season with Vindictus! We will be pulling out all the stops to bring a festive Yuletide spirit to the brutal world of mercenaries and fomors. Here's a look at some of the things we have planned for the holidays:
Decorations in Colhen! (12/15 - 1/18)
[
]
The citizens of Colhen are in the holiday spirit. The town has been decorated with all kinds of holiday flair, including a Christmas tree and snowmen while a steady snowfall fills the air with fluffy flakes.
Don't Let the Glitches Steal Christmas! (12/15 - 1/18)
[
]
The kobolds in Hoarfrost Hollow hate the holidays, they hate the whole season and, while nobody truly knows the reason, some suspect that it's because their hearts are two sizes too small. In fact, these creatures are so jealous of everybody's holiday cheer that a glitch has turned their skin green! Eliminate these holiday-hating Glitches! Defeat enough and collect 4 puzzle pieces to earn your own set of reindeer antlers and a shiny red nose that (you could even say) glows!
Free Snowballs Daily! (12/15 - 1/4)
[
]
Get 11 FREE snowballs from the Supply Depot every day from December 15 through January 4, or purchase them in bulk at the Supply Depot. Snowballs can be used as secondary weapons to pummel and sometimes even freeze your foes, or you can have a good-old-fashioned snowball fight with your allies on the boats!
Buy a Tiger Head Body Tattoo, Get 2 FREE Body Tattoos! (12/15 - 1/11)
[
]
Customize the look of your character with new body tattoos now available in the Avatar Shop! To celebrate the introduction of this new customization option, all characters who purchase the Tiger Head Tattoo from December 15 through January 11 will receive Tiger Torso and Tiger Tail tattoos FREE on January 19!
Wish your fellow mercenaries "Happy Holidays!" (12/15 - 1/18)
[
]
Spread the holiday spirit by pressing F1 in dungeons or on the boats to say, "Happy Holidays!" to your teammates… or to say it to a Glitch before you knock him out!

We hope you enjoy all of the festivities we have planned for the season, and that you and yours have a very safe and happy holiday!
Happy Holidays! (F1)
Event Information
[
]
Colhen is Festive
[
]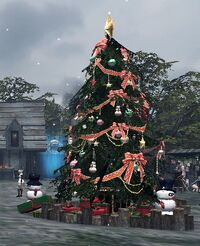 The Christmas event in 2010 redecorated Colhen, putting up a Christmas tree in the middle, and snowmen around the Marketplace.
The weather was changed from light sunshine to light snow for a more festive feel.