Bleeding Plant
Req. Level:
You must have completed the story "Forest Shadow".
Starts with Ceara
Ends with Marrec
Steps to Completing:
The Mercenary Outpost falls silent. Maybe Ceara can help revive things.

Ceara
What is it?

Yes, things are little [sic] serious, aren't they?
I can sense that. But I can't really ask anyone.

The captain knows something, and so does
the lord, but no one else is willing to talk.

Anyway, what is it that you brought?
Looks cute.

You know, the thing <Kai> brought.
You don't know what I'm talking about?

Ceara
So, what was that thing <Kai> brought earlier?

Marrec
What are you talking about?

Ceara
Are you really going to do this?
Why won't you show it to me?

Is this revenge for not joining
the battle or something?

Marrec
So what exactly would you like me to tell you?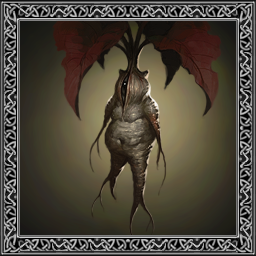 Gwynn
What, you mean this?

Ceara
Yeah, that is it!
Thank you so much.

Gallagher
You were talking about the Unknown Plant?
You think that's...cute?

Marrec
I'm not sure.
Anyway, how do you know?

Is this woman's intuition or something?

Gallagher
...And what does gender have to do with this?

Aodhan
What's going on? What's all that racket?

Marrec
Nothing, Captain!
Ceara showed interest in the Unknown Plant.

I let her look at it for a second.

Aodhan
Why would you be interested in the Unknown Plant?

Ceara
It looks...kind of like...
a little baby doll. It's cute.

Ceara
Too bad this doesn't have any hair.
It would've been cuter with hair...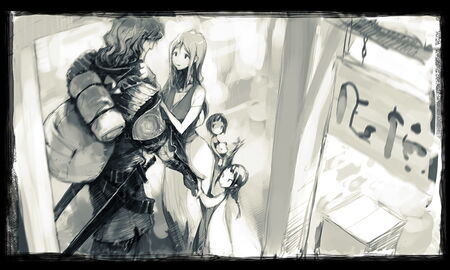 Rudell
It's a doll. A doll with blond hair.
Okay?
Danaryn
Rudell, daddy is not going on a vacation.
He can't buy you something like that.

Look at your sister.
See how mature she is?
Rudell
No! I want a doll. Please, daddy?
Please, please promise me that you'll buy one for me.

Aodhan
Haha! If my little princess wants it,
my little princess will have it.

Yusey, is there anything you want?
Yusey
I'm okay. Please just come back safe.

Aodhan
Okay, then I will find something for you, too.
Danaryn
Please, don't spoil Rudell like that.

Aodhan
It's okay. It's not a problem.
Rudell
Wow, daddy's the best!
You promised, okay? Okay?
(Ceara's hands are covered with blood.)
(Gallagher points to a Unknown Plant.
It looks like a blood-covered corpse.)

Ceara
I, I didn't do anything...
I just squeezed it.

Aodhan
Relax, it's okay. That's what that plant does.
You didn't do anything wrong.

Marrec
The captain's right. Wow, you look shocked.
Let's go sit down and rest a little.

Hey, <Kai>. Sorry to ask, but can you
bring some Wild Berry?

Ceara needs something to help her relax...
You can probably find them in Hilder Forest.

Marrec
Sorry to ask you this so suddenly, but
we've got nothing to help her. Please hurry.
Obtain Wild Berrys from Battle Quest Habitat for Wild Plants and bring them to Marrec.

Marrec
Were you able to get them?

Then please let me have them.

Marrec
Here, Ceara. Try some of these.
They'll make you feel better.
(Ceara bites down on a Wild Berry. Her heavy breathing
slows almost immediately.)

Marrec
Great. Thank you, <Kai>.
I think this thing really got to Ceara.

She's fought tons of Fomors as a Crimson Blade,
but I guess that plant must've surprised her.

Anyway, she looks better, so don't worry too much.
Thanks again, <Kai>.